TOP HEADLINE:
Post Hundreds Of Classified Ads Weekly On BackPage.com In Just 20 to 30 Minutes A Day!
With As Little As 20 to 30 Minutes Of Your Spare Time, This Ad Posting System Will Turn Your
Daily Advertising Into A Simple System Of COPY/PASTE, RINSE & REPEAT!!!



ATTENTION: Learn How To Get TONS Of
Leads Everyday Posting HUNDREDS Of
FREE Classified Ads Online @...

www.BackPage.com!!!
>>>THIS IS NOT SOFTWARE<<<

You Can Use The BackPage Ad Posting System......


To generate Leads, make Sales, and build a Hyper-Responsive List!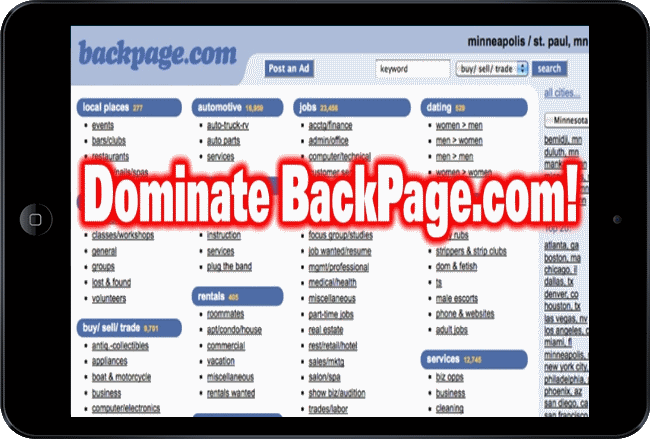 Effortlessly Make Money
While Posting Hundreds Of Ads...
A Proven System That Works So Well
- It's HARD TO FAIL...
Step-by-Step Instructions
- Making it Really Simple...
See Results In The Next 24 hours
... Simple As That!
Just Follow a Simple System That

Takes 20-30 Minutes a Day

!
To Learn "How I'm Earning Money Working At Home Using BackPage"
By Posting Hundreds Of Ads - Click on the button below...



6 Years Later And I'm Still Making Money With This - CLICK HERE
Copyright © 2016 All Rights Reserved.